Sanders-Corbyn: a consolatory daydream of a small begining rather than a not-so-big end.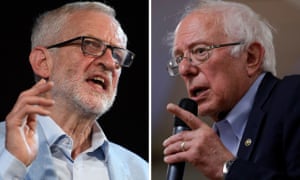 The Corbyn-Sanders phenomena has reached its conclusion. The road to socialism is not a short cut through the softer alternative ruling party firmly in the grip of well-connected politicians and apparatchiks.
But, you might say, what is the difference between these adventures outside the revolutionary stockade and Syriza's in Greece, which I supported? This: the battle between those who wanted real change and those who didn't was not decided in Syriza until Tsipras consolidated his capitulation to Brussels; the defeat of Corbyn in the blood-soaked and knighted British Labour Party and of Sanders in the blood-and-money-soaked Democratic Party was a forgone and foreseeable conclusion.
Corbyn and Sanders (good men and true) could begin in the autumn of their lives their great new historical contribution of founding and nursing new and groundbreaking independent socialist political parties. Could.
Des Derwin