Archive for the 'Bernie Sanders' Category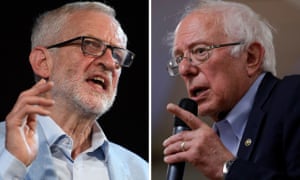 The Corbyn-Sanders phenomena has reached its conclusion. The road to socialism is not a short cut through the softer alternative ruling party firmly in the grip of well-connected politicians and apparatchiks.
But, you might say, what is the difference between these adventures outside the revolutionary stockade and Syriza's in Greece, which I supported? This: the battle between those who wanted real change and those who didn't was not decided in Syriza until Tsipras consolidated his capitulation to Brussels; the defeat of Corbyn in the blood-soaked and knighted British Labour Party and of Sanders in the blood-and-money-soaked Democratic Party was a forgone and foreseeable conclusion.
Corbyn and Sanders (good men and true) could begin in the autumn of their lives their great new historical contribution of founding and nursing new and groundbreaking independent socialist political parties. Could.
Des Derwin
Hurricane Katrina was a climatic disaster for the great city of New Orleans, USA in 2005. 
https://www.nationalgeographic.com/environment/natural-disasters/reference/hurricane-katrina/
Mike Davis argues that Covid-19 could in 2020 provoke a social and medical collapse of the privately-owned nursing home industry -A Medical Katrina – in the land of Donald Trump.
We are in the early stages of a medical Katrina. Despite years of warnings about avian flu and other pandemics, inventories of basic emergency equipment such as respirators aren't sufficient to deal with the expected flood of critical cases. Militant nurses unions in California and other states are making sure that we all understand the grave dangers created by inadequate stockpiles of essential protective supplies like N95 face masks. Even more vulnerable because invisible are the hundreds of thousands of low-wage and overworked homecare workers and nursing home staff.

The nursing home and assisted care industry, which warehouses 2.5 million elderly Americans—most of them on Medicare—has long been a national scandal. According to The New York Times, an incredible 380,000 nursing home patients die every year from facilities' neglect of basic infection control procedures. Many homes—particularly in Southern states—find it cheaper to pay fines for sanitary violations than to hire additional staff and provide them with proper training. Now, as the Seattle example warns, dozens, perhaps hundreds more nursing homes will become coronavirus hotspots and their minimum-wage employees will rationally choose to protect their own families by staying home. In such a case the system could collapse, and we shouldn't expect the National Guard to empty bedpans.

The outbreak has instantly exposed the stark class divide in healthcare: those with good health plans who can also work or teach from home are comfortably isolated provided they follow prudent safeguards. Public employees and other groups of unionized workers with decent coverage will have to make difficult choices between income and protection. Meanwhil, millions of low wage service workers, farm employees, uncovered contingent workers, the unemployed and the homeless will be thrown to the wolves. Even if Washington ultimately resolves the testing fiasco and provides adequate numbers of kits, the uninsured will still have to pay doctors or hospitals for administrating the tests. Overall family medical bills will soar at the same time that millions of workers are losing their jobs and their employer-provided insurance. Could there possibly be a stronger, more urgent case in favor of Medicare for All?
— Read on socialistresurgence.org/2020/03/12/covid-19-the-monster-is-finally-at-the-door/
A dimwitted comeback kid staggers into a saloon called "The Evil of Two Lessers"
The Twilight of the Political Revolution

The Twilight of the Political Revolution
— Read on louisproyect.org/2020/03/09/the-twilight-of-the-political-revolution/
Lesser-Evil Politics from a defeated Democratic Party Candidate Bernie Sanders :
Just as was the case in 2016, Sanders will stump for Biden like he did for Clinton. Yesterday, he told Meet the Press's Chuck Todd, "Look, Joe Biden is a friend of mine. He has indicated that if he wins the nomination I will be there for him. Together, we are going to beat Donald Trump, the most dangerous president in the modern history of this country, but you can't — we live in a democracy, and we have to contrast his — our records and our ideas, our vision for the future."
The dogged investigative journalist Ed Moloney adds extra toxicity :
Now that Joe Biden is the favourite to win the Democratic presidential nomination, expect to see his failing mental powers – his increasingly hard-to-ignore senility to be blunt – assume centre stage.
Democrat bosses would not be human if they were not concerned about how he will fare against Trump in the back and forth of debates. Biden's mental confusion is now so obvious and embarrassing, even if much of the US media don't want to go there, that it is enough to make you wonder whether the Ukrainian scandal was really staged to make it appear that Trump was scared of Biden when in fact he wanted him to be his opponent.
This piece in Commonweal magazine mercilessly examines Biden's mental problem.
The question for the radical left in the USA becomes : is there a credible third-Party campaign which can be supported?
This is one option :
https://solidarity-us.org/every-state-is-a-battleground/
https://howiehawkins.us/whats-wrong-with-capitalism-and-why-we-need-ecosocialism/