Archive for the 'USA' Category
This is a savage witty attack on USA President Donald Trump.
Europeans, like North Americans, are resisting buffoonish and stupid racist leaders – Viktor Orban of Hungary, Boris Johnson of Britain – and outright leader of the pack, Arlene Foster from the north of Ireland.
"Europeans often look down on Americans and make fun of us. That in itself may be more of a stereotype and a joke than it is real…or at least it was before Donald Trump became president.
The idea of Donald Trump being president was a joke. The Simpsons had it as a joke in one episode because it was so ridiculous. Lisa Simpson was president, who is a cartoon and not a real person, and that's less ridiculous than a Trump presidency. Though in that episode, Lisa had to rebuild the nation after a Trump presidency.
But yeah, Donald Trump is a joke. But Europe, like American liberals and the few Republicans who put their nation before a cult, recognize he's more than a joke. He's dangerous. However, as dangerous as he is, gatherings of world leaders are still caught on hot mics mocking the guy who claims he's restored international respect to our nation.
Europe has done a much better job with the coronavirus than our nation. While we have 4 percent of the world's population, we have 25% of coronavirus cases. The virus is spiking in the deep south and our more liberal states in the northeast are enacting quarantines for visitors from those states. Europe may take it one step further.
Europe looks at us and they see our president, the ultimate ugly, stupid, arrogant American. And what do they see now? They see an ugly American denying a virus isn't as bad as it is. They see a stupid American telling people to drink bleach and take a medication that can kill them (Hey, if Europe is afraid of a drug, you don't wanna go near it). They see an arrogant American mock people for wearing facemasks. They see an incredibly ugly, stupid, arrogant American president (sic) say we have fewer cases of coronavirus when we have fewer tests. They see an idiot who believes tests create cases.
And now, the entire continent is considering banning each of us from entering. What's next? Stiffed by Canada? Will Mexico build a wall and make us pay for it (probably)?
Europe may not like us very much but they love our money and for us to come over and eat their snails. But when they see our leader (sic) exhibit the very worst of us, Europe is all like, "Nope!" They don't want dirty Americans to re-contaminate their nations where people actually believe in science.
I don't blame them."
Read the rest of this entry »
Spacers, many of them religious groups in the USA, have placed themselves in grave danger by defying Covid-19 social distancing advice. One group of spacers, studied here by Louis Proyect, is politically motivated.
COUNTERPUNCH, APRIL 10, 2020 In the photo below, dated March 15, 2020, you will see a group of mostly senior citizens defying the call for social …

The SWP and Social Distancing: a Study in Abnormal Political Psychology
A doctor commented

It will be very sad, if somewhat ironic, were some these SWPers to end up having memorial meetings of their own because of their attending this one. As for closing meetings prior to the governmental instructions, I was instrumental in cancelling all social meetings for the support group that I help run for people with a neurological illness, a couple of weeks prior to the British government's lock-down, on the basis that meeting in cafés was not a good idea, particularly for people with underlying health problems. As the SWP's membership makes even me look somewhat young, and seeing how the Corona virus is especially dangerous to older folk, I would have thought that cancelling public meetings before having to by way of government fiat, would have been a good idea for the SWP to have implemented.
Another politically motivated individual who ignored physical distancing Covid-19 Advice was British Prime Minister Boris Johnson.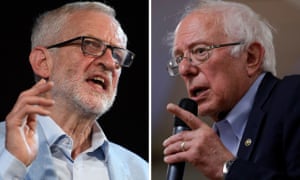 The Corbyn-Sanders phenomena has reached its conclusion. The road to socialism is not a short cut through the softer alternative ruling party firmly in the grip of well-connected politicians and apparatchiks.
But, you might say, what is the difference between these adventures outside the revolutionary stockade and Syriza's in Greece, which I supported? This: the battle between those who wanted real change and those who didn't was not decided in Syriza until Tsipras consolidated his capitulation to Brussels; the defeat of Corbyn in the blood-soaked and knighted British Labour Party and of Sanders in the blood-and-money-soaked Democratic Party was a forgone and foreseeable conclusion.
Corbyn and Sanders (good men and true) could begin in the autumn of their lives their great new historical contribution of founding and nursing new and groundbreaking independent socialist political parties. Could.
Des Derwin